SYNOPSIS
(ENG)
To keep a promise made to her dying mother, a young woman goes off in search of her father, a womanizer she has never met. Along the way, she soon learns that
he is dead. But that doesn't change her plans, she still intends to find him.
Carried by the spell-binding rhythm of the maloya, a ritual chant from Reunion Island, Cilaos explores the deep and murky ties that bind the dead and the living.
(FR)
Pour tenir la promesse faite à sa mère mourante, une jeune femme part à la recherche de son père, homme volage qu'elle n'a jamais connu. En chemin, elle apprend
rapidement que l'homme est mort. Son plan ne change pas pour autant, elle doit retrouver son père.
Porté par le rythme envoutant du maloya, chant rituel réunionnais, Cilaos explore les liens profonds et troubles qui unissent morts et vivants.
(ESP)
Para mantener la promesa hecha a su madre muriente, una joven  parte en busca de su padre, que nunca conoció. En el camino rápidamente se entera de que el
hombre ya está muerto. Su plan no cambia sin embargo, ella debe encontrar a su padre.
Llevado por el ritmo embriagador del maloya, canto ritual reunionés, Cilaos explora los lazos profundos y turbios que unen a los muertos y a los vivos.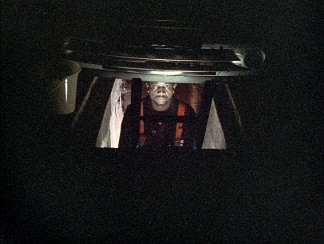 With:
Christine Salem
David Abrousse
Harry Périgonne
Crew:

Writer and Director: Camilo Restrepo
Producers: Joanna Sitkowska and Anne Luthaud
Artistic collaboration: Arthur B. Gillette
DoP / Camera Operators : Guillaume Mazloum, Camilo Restrepo
Sound recordist: Mathieu Farnarier
Film editors: Bénédicte Cazauran, Camilo Restrepo
Colorist: Magali Marc
Sound editor: Josefina Rodriguez
Re-recording mixer: Mathieu Farnarier
Dialogues and texts: Sophie Zuber, Christine Salem, Camilo Restrepo
Artistic advisor: Kiro Russo
Musicians: Christine Salem, David Abrousse, Harry Périgone
English sub-titles: Regan Kramer
Production: G.R.E.C.
Produced in : France / Year: 2016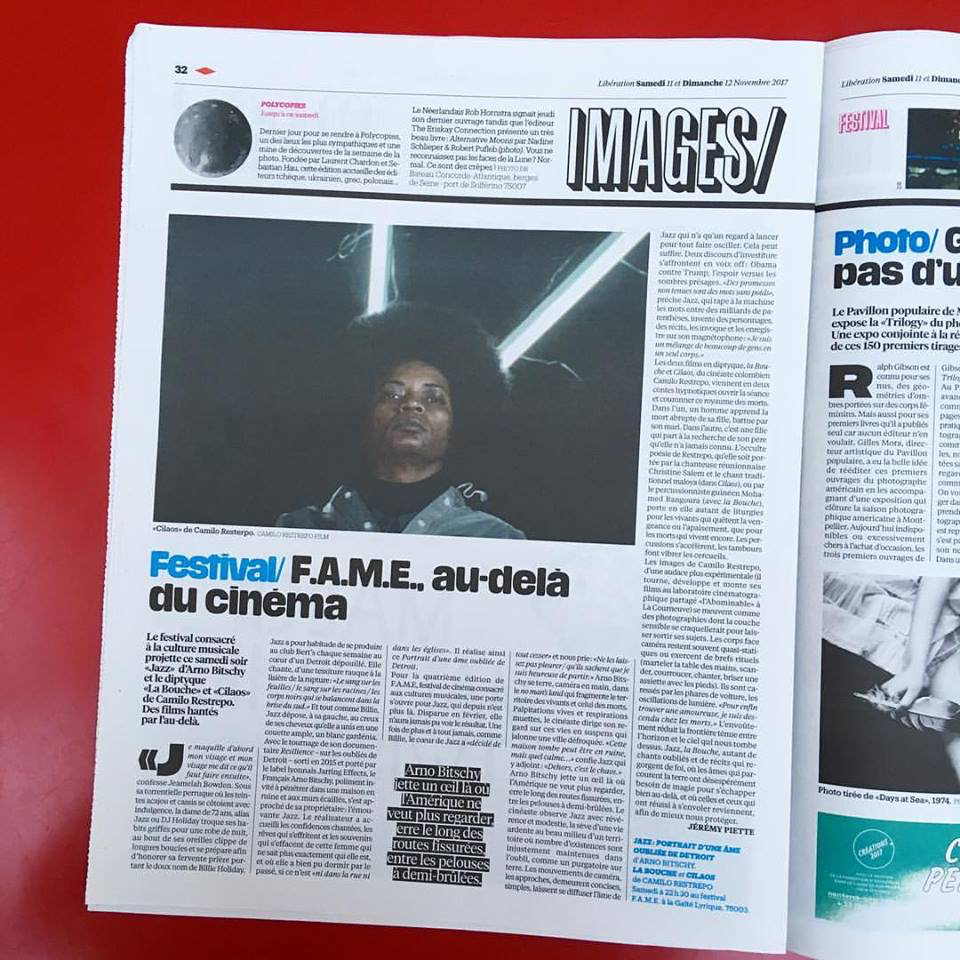 AWARDS
PARDINO D'ARGENTO
Festival del Film Locarno
BEST FILM OF THE NEW CINEMA COMPETITION 
Berwick film & media art festiva
BEST SHORT FILM OF THE INTERNATIONAL COMPETITION
IX Janela Internacional de Cinema
SPECIAL MENTION
Antofadocs 2016
SILVER FICTION AWARD « MIKELDI DE PLATA »
Zinebi 2016
SPECIAL MENTION
Festival Internacional de Cine de Cartagena (FICCI)
PRIX QUALITÉ CNC (AIDE APRÈS RÉALISATION)
France 2017
SPECIAL MENTION
Go Short (NL) 2017
HONOURABLE MENTION
Media City Film Festival 2017
PRIX EX-AEQUO
Festival des Cinémas Différents et Expérimentaux de Paris 2017
SPECIAL MENTION
35° Festival Tous courts Aix-en-Provence 2017
FESTIVALS & SCREENINGS:
2016:
FESTIVAL DEL FILM LOCARNO
Locarno (Switzerland)
TORONTO INTERNATIONAL FILM FESTIVAL (WAVELEGNHTS)
Toronto (Canada)
BERWICK FILM &MEDIA ARTS FESTIVAL
Berwick (UK)
NEW YORK FILM FESTIVAL
New York (USA)
FESTIVAL CURTOCIRCUITO
Santiago de Compostela (Spain)
FESTIVAL DE CINE DE VALDIVIA
Valdivia (Chile)
IX JANELA INTERNACIONAL DE CINEMA DO RECIFE
Recife (Brasil)
INTERNATIONALE KURZFILMTAGE WINTERTHUR
Winterthur (Switzerland)
ANTOFADOCS
Antofagasta (Chile)
30TH LEEDS INTERNATIONAL FILM FESTIVAL
Leeds (UK)
MAR DE PLATA FILM FESTIVAL
Mar de Plata (Argentina)
ZINEBI
Bilbao (Spain)
PHI CENTRE
The best short films of Locarno program
Monréal (Canada)
AMINI
Screening X (Programmed by Peter Taylor)
Belfast (UK)
TRANSCINEMA
Lima ( Peru)
AN EXPERIMENT IN CINEMA IN REVERSE
(Screening Curated by Shama Khanna)
Vilnious (Lithuania)
2017:
ROTTERDAM INT. FILM FESTIVAL
Rotterdam (Netherlands)
NORTHWEST FILM FORUM
Veracity : New Documentary Cinema
Seattle (USA)
40TH PORTLAND INTERNATIONAL FILM FESTIVAL
Portland (USA)
COURTISANE FESTIVAL
Gent (Belgium)
FESTIVAL INTERNACIONAL DE CINE DE CARTAGENA (FICCI)
Cartagena (Colombia)
FICUNAM
México D.F. (México)
40TH PORTLAND FILM FESTIVAL
Portland (USA)
COURTISANE
Gent (Belgium)
GO SHORT
Nijmegen (Netherlands)
LOCARNO IN LOS ANGELES
Los Angeles (USA)
SARASOTA FILM FESTIVAL
Sarasota. Florida (USA)
MILWAUKEE UNDERGROUND FILM FESTIVAL
Milwaukee (USA)
EMAF
INDIELISBOA
Lisbon (Portugal)
Retrospectiva Camilo Restrepo
Cosquín (Argentina)
VIDEOEX
Zürich (Switzerland)
IRISH FILM INSTITUTE
CURATED BY PETER TAYLOR
Dublin (Ireland)
HAMBURG INTERNATIONAL SHORT FILM FESTIVAL
Hamburg (Germany)
OLHAR DU CINEMA
Curitibia (Brazil)
TRANSATLANTYK FESTIVAL 2017
Poland.
GUANAJUATO FILM FESTIVAL
Guanajuato (Mexico)
MOSCOW INTERNATIONAL EXPERIMENTAL FILM FESTIVAL
Moscow (Rusia)
LAGOFILMFEST
(Italy)
EUROPEAN FILM FESTIVAL PALIC
Palic (Serbia)
CORTO CIRCUITO (RETROSPECTIVA CAMILO RESTREPO)
Cali (Colombia)
FESTIVAL DE CINÉMA DE DOUARNENEZ
Douarnenez (France)
19° FEST CURTAS BELO HORIZONTE
Belo Horizonte (Brazil)
MEDIA CITY FILM FESTIVAL
Windsor (Canada)
WHITECHAPEL GALLERY LONDON.
The Last London
30/09/2017 A Purge Day Out. London (UK)
PANCEVO FILM FESTIVAL
Pancevo (Serbia)
FESTIVAL DES CINÉMAS DIFFÉRENTS ET EXPÉRIMENTAUX DE PARIS
Paris (France)
FILM IN THE PRESENT TENSE INTERNATIONAL
(Berlin – Germany) Symposium 20.–22. Oct 2017
PANORAMA DU CINÉMA COLOMBIEN
Paris (France)
THE MUSICAL POLITICS OF CAMILO RESTREPO
Retrospective at the Institute of Modern Art:
Brisbane (Australia) (Check here) 16th November
F.A.M.E.
Paris (France)
KASSELER DOK FEST
Kasseler (Germany)
CORTO CIRCUITO (LATINO SHORTS FILM FESTIVAL)
New York (USA)
FRONTERA SUR, FESTIVAL DE CINE DE NO-FICCIÓN
Concepción (Chile)
VII FESTIVAL MÁRGENES
Ciclo MÁS ALLÁ DEL VAMPIRISMO DE LA POBREZA por Pedro Adrián Zuluaga
Madrid (Spain)
EXPOSITION ATTACHES
Retrospective Cité International des Arts
Paris (France)
OTRAS LUCES
Exhibtion curated by Gonzalo de Pedro Amatria
Pamplona (Spain)
2018:
CINÉKOUR TALENTS
Screening 23rd March
Cité des Arts de la Réunion
Île de la Réunion
SCREENING + CONCERT: JAMIE STEWART (XIU XIU) AND CILAOS & LA BOUCHE
4th April / Wroclaw (Poland)
FESTIVAL DE CINÉMA D'AUDIERNE
Audierne (France)
KABINET FILM
Screening 25th May
Brussels (Belgium)
WHITSTABLE BIENNALE
Whitstable (UK)
FESTIVAL D'AUDIERNE
Audierne (France)
TROPIC POCKET: RECENT WORKS BY CAMILO RESTREPO
Union Docs – New York (USA) Curated by Cecilia Barrrionuevo
22nd March 2018
RETROSPECTIVE CAMILO RESTREPO
Encuentros Cinematográficos Cámara Lúcida III
Cuenca (Ecuador)
GHOSTS AND SONGS (RETROSPECTIVE)
Conversations at the Edge
School of the Art Institut of Chicago
20th September
Chicago (USA)
CARTE BLANCHE CINÉKOUR AU FESTIVAL CINÉBANLIEUE
10th November 2018
Saint-Denis (France)
LANZAMIENTO REVISTA KINETOSCOPIO
6th December 2018
Medellín (Colombia)
RENCONTRES CINÉMAS MARTINIQUE
29th March 2019
Fort-de-France (Martinique)
LA BOUCHE: RECENT FILMS BY CAMILO RESTREPO
March 28th 2019
ArtLibLab
Madison, Wisconsin (USA)
VOD
MUBI
Worldwide from November 30 thto 30th December2017
KINOSCOPE
Wordlwide from 1st to 31st August 2018
INTERNATIONAL SALES & DISTRIBUTION
Collectif Jeune Cinéma
http://www.cjcinema.org/pages/fiche_auteur.php?auteur=977
USA SALES & DISTRIBUTION
Video Data Bank
https://www.vdb.org/artists/camilo-restrepo
COLOMBIA SALES & DISTRIBUTION
Mutokino